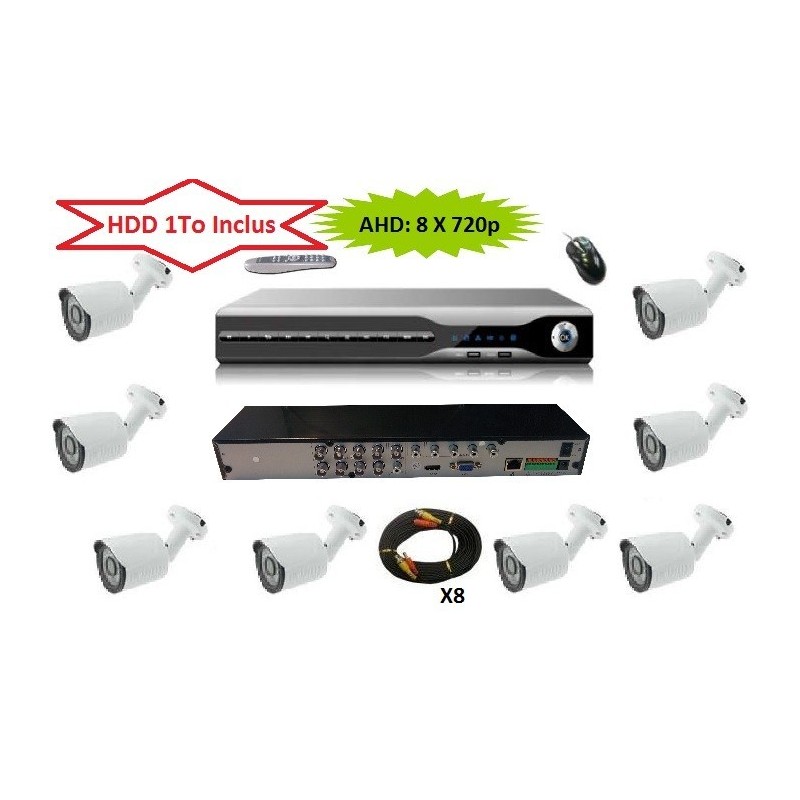  
Serveur Video Surveillance AHD H264 HDD 1000 Go 8 CAMERAS 720p Haute definition
Garanties sécurité
(à modifier dans le module "Réassurance")
Politique de livraison
(à modifier dans le module "Réassurance")
Politique retours
(à modifier dans le module "Réassurance")
 Serveur Video Surveillance AHD H264 HDD 1000 Go  8 CAMERAS 
Haute Dinition HD

240 FPS, surveillance par internet ou telephone  PRO !


Compatible Iphone
, Android, Symbian, Blackberry 
ou Windows  !!
Professional AHD H.264 Compression CCTV Surveillance Digital Video Recorder FULL Real Time DVR

Disque Dur 1000 Go Offert !
+ 8 x CMOS 18 IR Security  Cameras anches AHD 720p 3.6mm Grand angle

+ 8 x 20m de cables combinant alimentation/video
+ transfo 8 cameras 12V5A avec pieuvre 8 sorties
+ Souris USB
+ Tommande IR
Processeur  dernie gation, pilotpar Linux : stabilitet performance
Interface OSD graphique tr intuitive
La Compression H.264 hardware  permet des vids nettes et prises, un flux reau tr fluide et un enregistrement tr longue durc
Fonctions Reau tr puissantes : 5 acc reau en consultation en simultan!!
VOUS POUVEZ CONTROLER VOTRE MAISON DE N'IMPORTE OU, avec un acc internet ou avec votre thone portable

Fonctionne alement en P2P pour une configuration plus facile !

Compatible tout thone Mobile !!
Caractistiques Serveur :
*8-Channel H.264 Network Digital Video Recorder (8CH 20P/960H)
*Video Compression: H.264; Video System: PAL/NTSC
*Video input/output: BNC 8-channel Input and 1-channel BNC Output and
1-channel VGA Output; VGA Resolution: 1024x768,1280x1024 ,1-channel HDMI output
*Audio input/output: RCA 4-channel input/ RCA 1-channel output /RCA 1-channel line input
*Alarm input/output: 4-channel input/1-channel output
*Display resolution: 720P/960H
*Display frame rate: 200fps(PAL);240fps (NTSC) (shared by 8 cameras)
*Recording resolution: 720P/960H, Real Time
*Recording frame rate: 720P@200fps/960H@200fps(PAL); 720P@240fps/960H@240fps(NTSC)
*Playback resolution: 4 x 720P
*RJ-45 Ethernet connector, Static, Dynamic IP and DDNS , P2P, Support Internet Explorer and
special client software, Support remote view by Iphone/Windows/Andriod/Symbian/Blackberry
* Support Internet Explorer, Mobile phone(Iphone/Windows/Andriod/Symbian/Blackberry), and CMS
*With RS485 x 1,1 IR Controller ,2USB2.0, 1 USB2.0 mouse
*Support PELCO-P&PELCO-D PTZ control
*Support 2 SATA Hard Disk interface (8TB in total)
*Multi-language menu
*Dimension: 354x245x45mm (LxWxH) Weight:4.0Kg
Cameras :
1/4" OV 1.0MP CMOS Sensor, 720P, With IR-CUT, DNR , OV9732 + HTC960
IR LED: ?5 (12) x 24PCS
IR LED: 14 x 18PCS (Optional)
IR range: 20M
Board Len 3.6mm/F2.0
Water resistance: IP66
Anti-Cut 3-Axis Bracket
Size: 151(W) x 64(H) x 65.5(D)mm
Weight: 700g
Contactez nous pour toute question technique ou renseignement
Autres pack disponibles sur demande : avec ou sans camera, anches ou non, 4 , 8 ou 16 entrs, cablages, etc...  
Technologie HDCVI, IP, Analogique, serveurs seuls, etc...
Camas motoriss, varifocal, tout est possible, du particulier aux entrepots industriels
Contactez nous pour vos configurations sur mesure !!!


Livraison sous 48h

Garantie 2 ans

No customer reviews for the moment.